How we started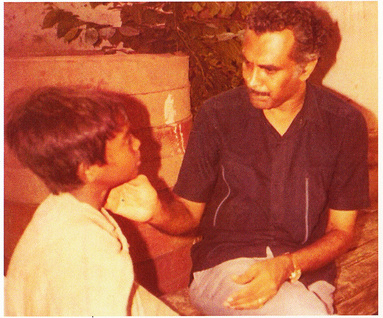 In 1978, our founder, Reverend Vijayan Pavamani, out of love and compassion for children deprived of basic rights and privileges, invited a group of 9 street children to an hour of songs and storytelling with one teacher in the office of The Calcutta Samaritans, located at Royd Street in the premises of Emmanuel Chapel.

From that small beginning a door of hope was opened for the poorest, marginalized and forgotten children of our city. With almost 1, 50,000 children on the streets of Kolkata this effort was a tiny drop in the ocean, but it would definitely make a difference for a few, who, in turn, would influence others.

With parents busy trying to put together one meal for the family, the children were left on their own without guidance or supervision; playing, fighting, getting into trouble and at risk to abuse and exploitation. Rev. Pavamani did not just see grubby insolent faces and tattered clothes - he saw a promise. His kind invitation was met with an amazing response from the children, so much so that the make-shift arrangement at The Calcutta Samaritans office saw an tremendous increase in the number of students.

The chapel graciously provided its sanctuary to be used for classrooms. Mrs Pavamani, as Project Director, began to restructure and organize the school by appointing two new teachers and grading the children according to their ages. This was not an easy task since the older children who had never been to school before had to start with the little ones in the nursery. But it was well worth the effort. Mrs Pavamani also managed to get sponsorship for the children through Compassion International. Several well wishers, international as well as local agencies like Tear Fund, Samaritans' Help, Emmanuel Chapel and Emmanuel Ministries Calcutta came forward to help.

Since hungry children cannot concentrate on studies, the chapel contributed an amount each month for the children to have cooked meals. Every year a new class was added. The number grew to 300 within the next few years and the school began to meet in two shifts. In 1984 the school was registered under the Societies Act.

It had to be relocated to the ground floor of the children's home in Jadavpur in 1989 where it presently stands.
---